Readers
De­spite its posh name, Roy­al Comics Syn­di­cate is a one-man com­pany and needs the help of read­ers to in­crease aware­ness of its comics.
If you re­al­ly like one of our comics, with the very small­est of ef­forts you can help make it pos­si­ble for the au­thor to cont­in­ue draw­ing.
Read our comics
On this site you can read our comics. Book­mark this site and vis­it us of­ten. New ma­te­rial is con­s­tant­ly be­ing add­ed!
Suggest a strip to a friend
Check out a com­ic and send your friend an e-mail sugges­tion to read it too. You can share the good ex­pe­ri­ence you had with the com­ic and make it bet­ter known at the same time.
Re­c­om­mend a com­ic to publi­ca­tion
If you want to read your fa­vorite com­ic in your lo­cal news­pa­per, let their ed­i­tors know di­rect­ly. You can send your publi­ca­tion re­quest us­ing our read­er feed­back sys­tem af­ter ex­plor­ing some comics (press Re­c­om­mend link).
Read­er feed­back is of para­mount im­por­tance to publi­ca­tions when choos­ing comics. Please re­mem­ber to give pos­i­tive feed­back some­times too, be­cause with­out it even a good com­ic that peo­ple like can end up gett­ing shelved.
Add a link to Face­book
If you re­al­ly like a com­ic char­ac­ter, add a link to the com­ic on your home­page, Face­book wall, etc. so others can find it bet­ter.
Royal Comics Syndicate
Roy­al Comics Syn­di­cate, found­ed in 2005, is a con­sor­ti­um of lead­ing Fin­nish comics au­thors. The Syn­di­cate sells in­ter­na­tio­n­al comics publi­ca­tion rights.
Read more

Dark Side of the Horse on the GoComics.com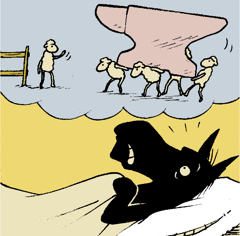 Samson's Dark Side of the Horse is available on the Universal Uclick GoComics.com service. Reading does not require registration, but will be profitable, because it allows you to create custom comics home page from among more than 200 comics titles (including Calvin and Hobbes, Liberty Meadows). Please register, subscribe the Horse and read a new strip every day.

Comics

Local News

Mixed Forest
Urban Leap

Bill and Esther

Tin-Bin

Dark Side of the Horse



Brochures